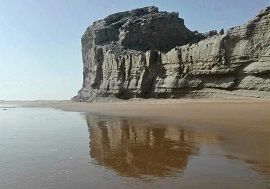 Beautiful view of Buji Koh Sapat Beach (Balochistan)
Buji Koh Sapat Beach is a beautiful and lovely place to visit in Balochistan province. Bolochistan having the largest coastal line in Pakistan having number of beautiful sea sites and those are mostly rocky except Gwadar which is deep sea site.
The rising rocks from the sea toward the beach, are named as Buji Koh. Due to this rocky mountain range, beach becomes more beautiful and attracts lot of visitors from all over the world.
About Buji Koh Sapat Beach
The Sapat Beach is one the famous sandy beaches in Pakistan. It is situated on the Makran Coastal line at the distance of 780 km from Quetta in Balochistan in Lasbela district. Buji Koh is the isolated standing steep cliff in the tides of beach, rising from the coastal sand. Rocky structure stretches along the beach.
The Sapat Beach also famous for different types of species living sea such as crabs, jelly fish, etc.
Picture Location Map