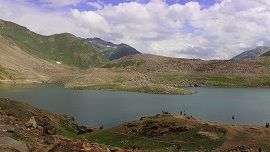 Beautiful View of Lulusar Lake (Khyber Pakhtoonkhwa)
Lulusar Lake is a beautiful lake on Naran-Chilas Road, in front of Lulusar mountain range, which makes it more attractive and beautiful view shadows of snow-capped mountains.
About Lulusar Lake
Lulusar Lake is the main source of the Kunhar River at an elevation of 11,190 feet. Its name is due to the name of the surrounding group of peaks. It is famous for its natural beauty and scenic views, the reflection of Lulusar mountains in the lake becomes a real attraction for the tourists. It is 56km from Naran after crossing Besal on the Naran-Chilas Road.
It is a larger size and highest lake in Kaghan Valley and the main source of the Kunhar River, which flows through the entire length of Kaghan Valley.
Picture Location Map