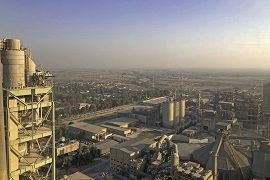 Cement Factory in DG Khan (Balochistan)
There are number of industrial units related to cement manufacturing and stone crushing in Dera Ghazi Khan due to its land structure that is favourable for these types of industries. One of the largest cement producing factory in Pakistan is also situtated in Dera Ghazi Khan.
About Dera Ghazi Khan
Dera Ghazi Khan, known as D. G. Khan, is situated on the western bank of the Indus River on the foot of Sulaiman Mountains Range with an average height of 10,000 ft. in South Punjab at the junction of four provinces.
The overall climate of the city is normally dry and hot in summer, having little rainfall, but winter is relatively cold. Due to the dry and barren mountains of Koh-Suleman and desert-like soil of the area, heavy windstorms are very much common in the summer.
Fort Munro, located on the border of Punjab Province at the distance of 80 km from D. G. Khan city in the Sulaiman Mountains Range, at the altitude of 1800 meters above sea level, has relatively cool weather. Sometimes in winter, scattered snowfall is also observed there.
Tomb of Hazarat Sakhi Sarwar
The shrine of Hazarat Sakhi Sarwar, is located in the Sulaiman Mountains at the distance of 35 km from D. G. Khan city.
Tomb of Ghazi Khan
It is the oldest building in the city, and there is a graveyard of 11 members of Nawab Ghazi Khan Mirrani family.
Hazrat Shah Suleman's Shrine
Dargah of Hazrat Khawaja Shah Muhammad Suleman is located in Taunsa Sharif in D. G. Khan city.
Taunsa Barrage It is located in the north of D. G. Khan city on the Indus River. It is good for a one-day picnic spot and also the best place for fishing with families.
Picture Location Map