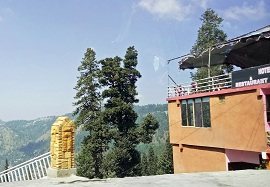 Hotel in Nathia Gali (Khyber Pakhtoonkhwa)
Nathia Gali is a wounderful place to visit, as easily accessible from Islamabad by any using any vehicle. The road from Islamabad to Nathia Gali is beautiful constructed and well protected, so there is no difficulty to drive there. There are number of every type of hotels and restaurants in Nathia Gali, with beautiful views of Nathia Gali hill station.
About Nathia Gali
Nathia Gali is the highest point and hill station in the Galyat area in Abbottabad, and is located at the distance of 82 km from Islamabad via Kashmir Road via Murree. It is fully covered with shades of pine, cedar, walnut, maple, and oak trees. It is popular for its scenic beauty with lush green meadow and forests. Mukshpuri and Miranjani are the two highest peaks of the area, you can also enjoy the trek, with some hiking, to the top of these hills.
Nathiagali has cool and pleasant weather at all times. In the monsoon period, rain is expected every day, so tourists must have raincoats with them. In the winter season, tourists can enjoy snow-falling in Nathiagali.
As there are a number of beautiful treks in Nathiagali, one of them leads to Thandiani via Dagri Nala. Another one is from Nathiagali to Ayubia. All of these treks have beautiful scenic views with lush green mountains everywhere, and one can also enjoy the singing of birds and colorful butterflies around different kinds of flowering plants.
One who loves nature especially wildlife can enjoy the best of one's life in Nathiagali, there number of different species of birds, butterflies, insects, and other animals. Leopard, monkey, and bear can be seen in Ayubia National Park.
Picture Location Map