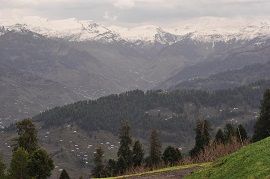 Toli Pir in Winter (Azad Kashmir)
Toli Pir receives snow fall in winter, so winter is an ideal season to visti Toli Pir and enjoy the snow fall and skating on snow. The surrounding mountain peaks cover with snow in winter season, so gives a beautiful scene of Toli Pir.
About Toli Pir
Toli Pir is a vast hilltop area situated at a distance of 30km from Rawalakot, Azad Kashmir at an altitude of 8,800 feet above sea level. It is the highest mountain top in this region so you get a bird's eye view of Bagh and Poonch Rivers from Toli Pir.
Toli Pir has a very attractive scenic view in summer as well as in winter. In winter, it covers with white snow everywhere, whereas in summer with lush green grass with a cool breeze. So it is an all-weather hill station and is accessible from Rawalakot in just 30 to 40 minutes.
Picture Location Map