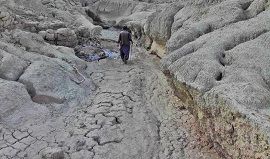 Treks in Hingol National Park (Balochistan)
Treks inside the peaks in the Hingol National Park are the one of the most beautifully trek in Pakistan. The Hingol National Park is most beautiful tourist location for the visitors in Balochistan. Tourist can enjoy the beauty of treks inside the Hingol National Park, which become the memories for tourists.
About Hingol National Park
Hingol National Park, or Hungul National Park, is situated along the Makran coastal line in Lasbela district, Balochistan. It is the second largest park in Pakistan, covering an area of 6,100 square kilometers. Some of the its area is also located in Gwadar and Awaran. It is located at the distance of 717 km from the main Quetta city and 243 km from Karachi on the Makran Coastal Highway.
Hingol National Park is the largest national park in Pakistan, and situated near Sapat Beaach in the Makran Coastal region. It lies in three districts, Gwadar, Awaran, and Lasbela and covered an area of 6,100 square kilometers. It was established as national park in 1988. Its name is due to the Hingol River that finally ends in the Arabian Sea. It has six distinct ecoystems with deserts and plains. It was bounded by a dense forest to the north side with a barren mountain range to the south, and the Hangul River and its tributaries.
The Hingol River and its tributaries are homeland for migratory birds, marsh crocodiles, and significant diversity of fish species. It is 560 km long river and flows throughout the Hungul Valley and Makran Coastal Range. It flows all over the year, whereas most of rivers and streams in the Balochistan province are seasonal. It is the main water source in the area of Hingol National Park.
Hingol National Park, or Hungul National Park, is a natural sanctuary for various kinds of plants and wildlife including endangered species. It has more than 250 kinds of plants and more than 280 different kinds of animals including mammals, aquatic animals, reptiles, amphibians, and migratory birds. It also famous for unique herbs which have importance in the field of medical. In coastal areas, a large number of aquatic life including dolphins, marsh crocodiles, green turtles, and olive turtles. It is ideal place for various mammals including Sindh ibex, Baluchistan urial, and Chinkara.
Hangul National Park has the most unique rock formations that attract number of tourists throughout the year due to their attraction and beauty. As per research, the process of erosion and sedimentation has played an effective role in the erosion of rocks for centuries in which the waves of the sea had cleaned the soil and rocks were left over there.
The Balochistan Sphinx, also called as Lion of Balochistan or Abul-Hol, is natural rock formation like a sphinx and visible from Buzi Pass on the Makran Coastal Highway.
The Princes of Hope is one of the most spectacular land-form in the park, also known as a hoodoo. It looks a statue of a tall woman looking on the distant horizon to find something. The name is given by Hollywood actress Angelina Jolie, when he was on UN goodwill mission in 2004.
Hingol mud volcano are abundantly available in Hingol National Park in the Mid-Hor area at an elevation of 800 to 1500 feet. They are famous due to their uniqueness and natural beauty. These can be easily accessible from the Makran Coastal Highway.
Hinglaj Mata mandir, also known as Nani Mandir, is an important Hindu shrine in Pakistan and thousands of visitors this location during spring season. It is a cave older than two hundred thousands years in Hingol National Park. Tourists have to cross the Chandra Gup Moutain to access the site. Muslim tourists can also visit the temple.
There are number of beautiful beaches on the Makran Coastal line, in which Virgin Beach in Kand Malir and Spat Beach in Boji Koh are famous. Due to the Makran Coastal Highway, these can be easily accessed and good place for full-day picnic.
Picture Location Map