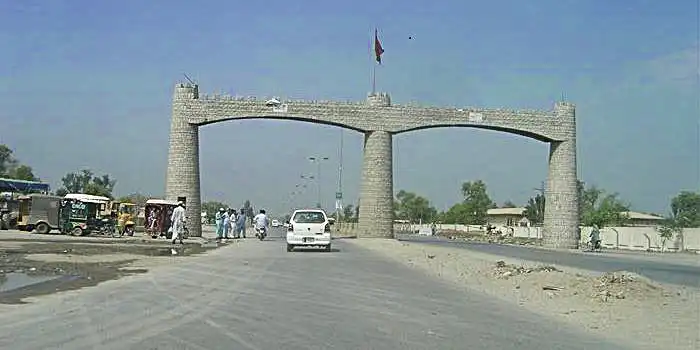 Nowshera (Khyber Pakhtoonkhwa)
Nowshera is situated on the bank of the Kabul River, at a distance of 40 km from Peshawar on Peshawar Road. The Kabul River and the Bara River are two main rivers, which flow through the district.
Nowshera has its border with Peshawar, Mardan, Swabi, Charsadda, Kohat, Attock, and Orakzai districts. The National Highway NH-5 runs in the middle of the district to provide an access of all of the district. It can also be accessed via Peshawar-Islamabad Motorway M1.
The Kabul River, 700 km long, is one of the main river in the Nowshera district. It originates in the Sanglakh Range of the Hindu Kush range in Maidan Wardak province of Afghanistan. Finally, it drains out itself into the Indus River near Attock. It enters into Pakistan at Torkham border by crossing the Durand Line between Pakistan and Afghanistan, and completes its remaining journey of 25 km in Pakistan.
Kund Park is located in Nowshera to conserve Asian black bears and Himalayan brown bears. There are some other animals such as leopards and deer as well as some parrots, pheasants, ducks, peafowls, and cranes. It is situated on the G. T. Road between the confluence point of the Kabul River and the Indus River. To access the Kund Park, You have to take right turn from G. T. Road on Sawabi-Jahngera Road, then after crossing the Kabul River move on the Kund Park road. It is also a good place to view the magnificent confluence of the Kabul River and the Indus River.
Manglot Wildlife Park, also known as Manglot National Park, is a natural sanctuary for wildlife in the area. It has an area of 1,756 acres including hilltops and plains of Khwara range near the Indus River. It has different kind of trees in which the olive trees are most important. It is also a homeland of the Chinkara, hog dear, wolf, wild boar, jackal, porcupine, and leopard. There are various variety of birds including chukar, partridge, rock pigeon, dove, and various species of sparrows. It also includes the unique species of different reptiles such as snakes and wild lizards.
In Nowshera, there are number of famous shrines including Kaka Sahib, Akhund Panju Baba, Sheikh Bahadur Baba, Mast Baba, and Sheikh Shahbaz Baba. Due to influence of the Indus Valley Civilization, there are several ruins related to various ancient dynasties at different locations of Nowshera.
Nowshera is also famous for its British cantonment during the British regime. Therefore , there are large number of army cadet schools in the city.
The weather of Nowshera is extreme hot in the summer season, whereas in winter season there is moderate coldness. It also receives rainfall in the monsoon period.
Nowshera Map