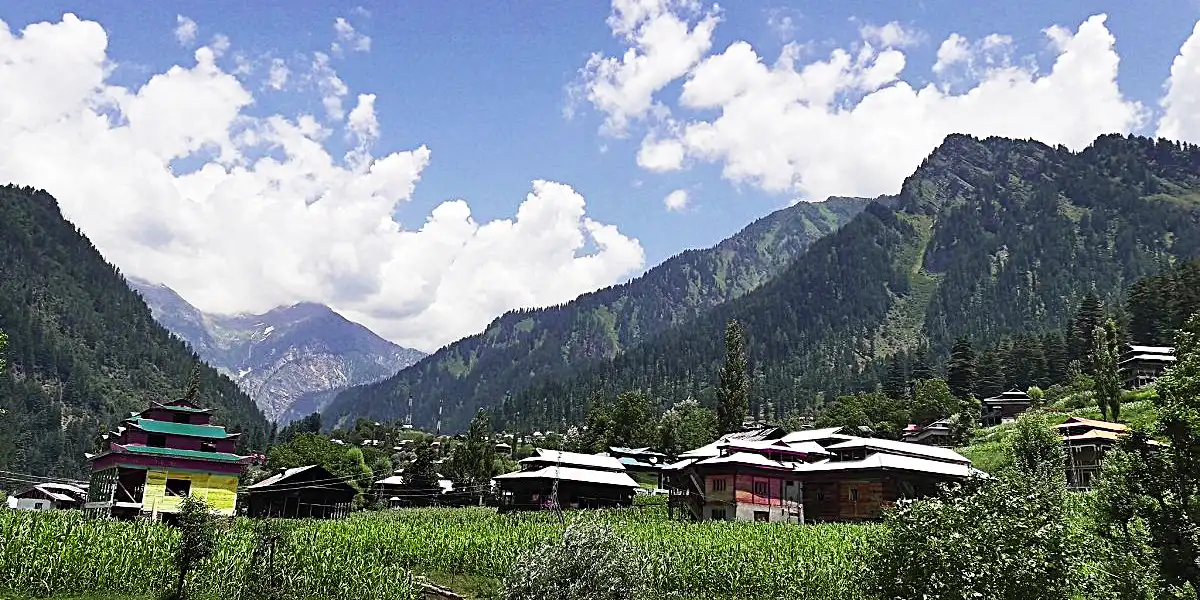 Sharda Valley (Azad Kashmir)
Sharda is a small hill station in the Neelum Valley and located at a distance of 136 km from Muzaffarabad at an altitude of 1,981 meters. It is one of the most beautiful valleys and is famous for its charming scenic attraction. Sharda Valley is located on the foot of two peaks, Sharda and Nardi. There are historical ruins of Hindu temples dedicated to the goddess Sharda. It remains a center point for Hinduism and Buddhism in the ninth century.
Sharda is accessible from Muzaffarabad easily by using any transport. There is a number of hotels and rest houses available in Sharda having different facilities.
About Neelum Valley
Neelum Valley, a bow-shaped thickly forested region, is the last district of Azad Jammu and Kashmir in Pakistan, located at the distance of 100 km from Muzzafarabad at an altitude of 5,299 feet. Its name is due to the Neelum River, flowing across the valley. Valley is divided among Pakistan and Indian held Kashmir, the LOC is normally moved along the Neelum River in this valley.
Neelum valley is very beautiful and attractive for number of visitors in all the seasons, it has a number of pictureous views of lakes, rivers, snow-capped mountains, green fields, waterfalls, etc. Road from Authmuqam to Kel, and then from Kel to Taobat is a real adventure of tour and full of beautiful views those must have an impact on life, as the road is adjacent to LOC, so you can see Indian Post and Indian flags on various hills in Indian held Kashmir.
It is also famous for orchards of apples, pears, and apricots. You can also see corn crops in all over the valley, that is much famous in all over Pakistan.
Kutton
Kutton is small tourist point at the distance of 82 km from Muzaffarabad on the bank of Jagran stream. It is a beautiful picnic point and one can enjoy the lovely night there.
Keran
On the bank of Neelum River and just on the LOC, there is a beautiful valley called Keran at the altitude of 5,000 feet. There is a splendid view of the Neelum River at this point and one can enjoy fishing there too. Upper Keran is more beautiful small village at the top, and you can have a clear view of mountain ranges in the Indian held Kashmir there.
Sharda
It is another most beautiful spot in the Neelum Valley at the altitude of 6,499 feet on the foot of Shardan Peak and at the distance of 136 km from Muzaffarabad. It is most attractive hill station in the Neelum Valley and people love to stay there for one or two days for getting peace of mind.
Kel & Aurang kel
Kel is the most attractive location for tourists at the altitude of 6,879 feet. Upper Kel or Aurang Kel is small village at the hilltop at the altitude of 8,379 feet, just two kilometers from Kel and is accessible through Chairlift or by performing two hours trek. Trek is little bit difficult at the end, but it will be the most valuable part of your life as there are number beautiful views of lush green forest, streams, springs, etc. If you are lucky, you may see some wild life there.
Lakes
There are number of lakes in the Neelum valley, those are accessible through jeep and hiking trek. The most important of them are Chitta Katha Lake, Shounter Lake, Ratti Gali Lake, spoon lake, and Saral Lake. These lakes are glacier lakes as most of the water in these lakes is due to surrounding glaciers on the hills.
Sharda Valley Map
Sharda Valley Photo Gallery
It is a beautiful view of Sharda Valley with beautiful huts in lush green pine trees in Neelum Valley. The Neelum River is running in front of Sharda Valley, which makes its atmosphere cool and pleasant.