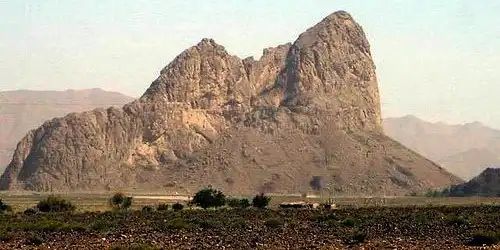 Zhob (Balochistan)
Zhob is situated at the distance of 330 km from Quetta on Kuchlak-Zhob Highway N-50 via Killa Saifullah. Its previous name was Fort Sandeman that was derived after Robert Sandeman, the first agent to the Governor General of Balochistan in British Regime.
Zhob district is bounded by Killa Saifullah, Loralai, Musakhel, and Seerani districts. It also has common boundaries with Wor Mamay, Wazakhwa, and Shamutzai cities in Afghanistan. The Kuchlak-Zhob Highway N-50 runs in the district and can be used to access all of other towns in the district. A small road, Murgha Kibzai Road, can also used to access the district via National Highway N-50 from Mekhtar town of Loralai. Another important road that connects the Zhob district with Wazirastan in Khyber Pakhtoonkhwa is the Zhob-Wana Road. Its importance is also due to connecting point with Dera Ismail Khan in Khyber Pakhtoonkhwa province. It is also connected with railway track on Chaman track. A local airport in Zhob can be used to get all type of national flight services.
Zhob is a historical city and this region was visited by a Chinese pilgrim Xuanzang in 629 AD. In 13th century, the Mongol attached on this region by Genghis Khan. Then this region remained a part of various dynasties of Afghanistan and India. Several ruins are found related to Mughal Empire. Its old name was Appozai before the British Rule, then it was named Fort Sandeman during the British Regime. His name was Robert Groves Sandeman and was the British Indian Army officer and was appointed as first agent to the Governor General of Balochistan. After independence, its name was changed to Zhob in 1976 by the Prime Minister of Pakistan Zulfiqar Ali Bhutto.
The Zhob River and several other seasonal streams are the main sources of water in the district and used for irrigation purposes. The Zhob River originates from the Kan Metarzai mountain range near Khajuri Kach in Muslim Bagh, and then finally it joins with the Gomal River part of the Indus River Basin.
Zhob is located in the high mountain ranges of the Sulaiman Mountain Range. Most of terrains in these ranges are rugged and barren. Due to various seasonal streams and rivers, the area is irrigated and produces various crops such as wheat, maize, barley, sunflower, tobacco, etc. There are also several orchards of various kind of fruits such as apple, almond, apricot, cherry, pear, etc.
Periano Ghundai, means Hill of Fairies, was an archaeological mound in the Zhob district at a distance of 3 km from the town along the Zhob River. It is almost similar to the Harappan civilization dated early 4,300 BC. It belongs to the Togau phase in Balochistan dated around 3500-3000 BC. Togau is a large mound at a distance of 12 km from Kalat in the Chhappar Valley of Sarawan. It was completely destroyed by local people after 1950.
Silyaza is beautiful picnic spot due to its several orchards of apples, almonds, apricots, and grapes along a stream flowing in the valley. There are various pastures of fields of wheat and maize.
The weather of the Zhob district is extreme hot in summer season but shorter than the winter season that is moderate cool and pleasant. Sometimes in winter season, the temperature falls below zero and high mountain areas also receive snowfall. There is a considerable amount of rainfalls in the monsoon period during July to September. Rainfall is also occurred in the winter season due to western breeze.
Zhob Map