Jhelum (Punjab)
Jhelum is situated in Pothohar Plateau, on the both sides of the Jhelum River, in the north of Punjab, Pakistan. The left side of the Jhelum River. The Jhelum River has very attractive scenery beauty at various places.
Salt Range is one the crutial resource in the Jhelum city. Salt Range is parallel hilss running from east to west throughout the Jhelum. The Khewra Salt Mine is largest salt mine in Pakistan in the Salt Range, and it is an major attraction for tourist in this area.
Industries like tobacco factory, wood, marble, glass and flour mills, are common in Jhelum.
Jhelum Map
Main Locations in Jhelum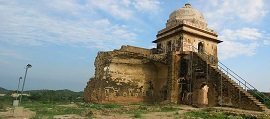 Rohtas Fort
Rohtas Fort was built in 16th century near Jhulem in Dina by Sher Shah Suri to help the rebellious tribes of the Potohar against Mughal emperor Humayun and Gakhar tribes. It is located at 8 km off the G. T. Road at the distance of 200 km from...
Explore More