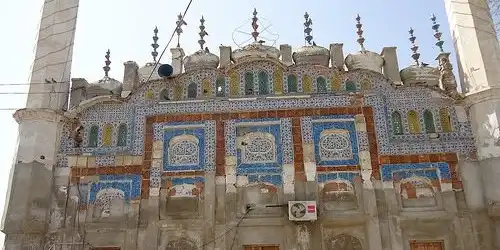 Sohbatpur (Balochistan)
Sohbatpur is located on the border of Sindh province at the distance of 318 km from Quetta city and is accessible via Sibi on Quetta-Jacobabad Highway N-65, and then following Sohbatpur road. It is the smallest district in term of area in the Balochistan province.
Sohbatpur is bounded by Dera Bughti, Jaffarabad, Nasirabad, and Jacobabad districts. The Sohbatpur road is the main road in the district that is connect with Dera Allah Yar in Jafarabad district with the Quetta-Jacobabad Highway N-65. It can be used to access all of the other towns in the Sohbatpur district. Sohbatpur road can also be used to access Uch Gas fields in the Dera Bughti district.
Sohbatpur has a plain agricultural area and that is fertile land of Kacchi Plain and Indus Plains. These plains are irrigated through the canals originated from the Guddu Barrage and Sukkur Barrage as well as by water of tube-wells. Another main source of the water is the seasonal streams from the Sulaiman Mountain Range. Agriculture is the main profession of the people of the district. It is mostly rural area, so majority of people live in the rural areas, so one can see the vast areas of cultivated land in the district. It is one of the districts in Balochistan that have fertile plains of the Indus River. Various cash crops such as wheat, rice, cotton, and sugarcane are common in this area.
Jamia Masjid Sohbatpur is a beautiful and artistically designed mosque in the city of Sohbatpur. It is more than hundred years old mosque. Exterior of mosque is designed with beautiful title work and geometrical pattern work. It has small courtyard in front of the prayer chamber. It has three domes on its prayer chamber with two main minarets with four small minarets. Front two minarets are also decorated with title work of multiple color, where domes are designed with white color cement. Prayer chamber has three entrance with beautifully engraved wooden doors of large size. Interior of mosque is also splendidly designed with mirror work, motifs, and geometrical patterns.
Jamia Masjid Adampur is another beautiful mosque in the Sohbatpur district in the town of Adampur. It has two minaret and its exterior is beautifully designed with the tile work.
The weather of the Sohbatpur district is extreme hot in summer season, whereas winter is cool and pleasant. It also receives considerable amount of rainfalls in the monsoon period during July to September.
Sohbatpur Map