Hunza Valley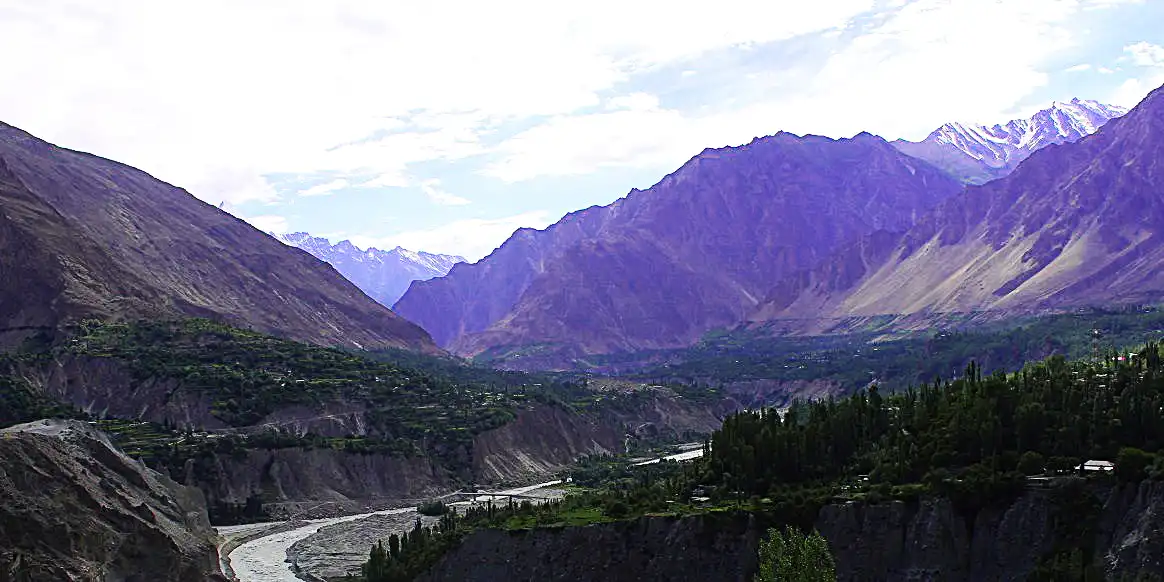 6 Days Tour to Hunza Valley and Khunjerab Pass
6 Days tour to the highest mountain ranges of the world in Hunza Valley, Gilgit Baltistan. Starting from Lahore, by transiting from Kaghan Valley and crossing Babusar Pass, you can see beautiful views of Hunza Valley including Baltit fort and Altit fort visit. And finally back to Lahore after visiting the highest international border between China and Pakistan at Khunjrab Pass.
Tour Plan (Schedule)
Day 1
Departure from Lahore to Islamabad, Short stay will be for dinner on one of Motorway Terminal.
Day 2
Short stay near Islamabad for dinner as well as getting visitors from Islamabad
Lunch at Naran
Visit Lulusar Lake & Night Stay nearby
Day 3
Short Stay at Babusar Top
Lunch near Raikot Bridge and site seeing Nanga Parbat
Night Stay at Hunza
Day 4
Visit Altit Fort and Baltit Fort
Explore Hunza Valley
Day 5
Visit Atta Abad Lake
Visit Khunjrab Pass
Departure for Naran
Visit Naran Bazar for Shopping
Night Stay at Naran
Day 6
Departure for Lahore
Tour Features
Main Conveyance

Hiace full AC with comfortable & luxury seats. Auto door system

Transit Conveyance

Any special conveyance such as jeep, rikshaw, taxi, etc. is not included in the package.

Food

No food included in the package

Residency

Accommodation is provided which are best and comfortable as per the weather and area.

Guide Services

Guide is always there to guide the location to visit. You can also provided map if required.

Tickets

No special funds are given for any fee or tickets for parks, boating, etc.

Misc Charges

No private porter or special private expenses are provided such as medical, medication, shopping or any other. Only basic first aid will be provided. In case of any unexpected event such as landsliding, road crush, or uncertain weather, any extra expenses must be paid by visitor.
Extra Services included in the tour
Hikking

Wildlife

Site Viewing

Photography
Services not included in the tour
No jeep or any other local conveyance is included in the package
Hiring of local guide or porter is not beared by the company
Any type of entry tickets of park, museum, etc, are paid by tourists themselves
No outdoor activiy or games are included in the plan
Extra tea/refreshment is not allowed except included in planned meals
Water sports activities as well as swmining is not allowed in the tour
Bonfire, or any type of music concert is not included
Trekking in forest is not allowed in this tour
Boating charges in lakes or rivers will be paid by tourists themselves
Fishing is not allowed without proper license
Phone services are not included in the package
No indoor games such as chess, cards, etc, are included in tour
Camping is not included in the planned tour
Other restricted services..

No private porter is provided.
No medical and special medicines except first aid.
In case of disaster such as landsliding, earthquakes, etc, no funds are provided for rescue.